Snack attack? Hot Cheddar and Bacon Dip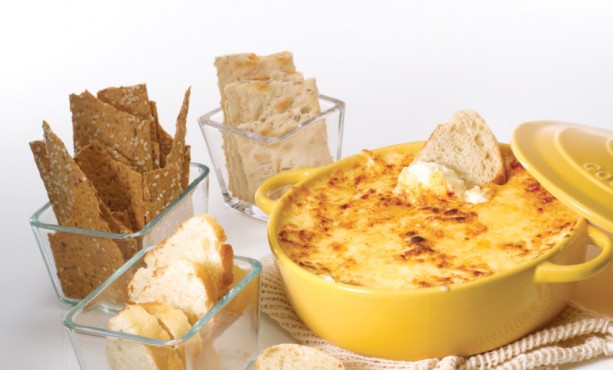 Need a quick appetizer for a weekend get-together?
Maybe the rainy weather's got you down, and you're looking for a warm and comforting snack.
Try one of our new dip mixes from Gourmet du Village. We have a variety of flavors including Bacon and Cheddar, Parmesan Artichoke,  Crab and Roasted Pepper. This week we're featuring a cheddar and bacon dip mix. (Did your mouth just water? I bet it did.)
Hot Cheddar and Bacon Dip
4 oz cream cheese, softened
1 cup mayonnaise
8.8 oz sour cream
3 Tbsp. grated cheddar cheese
Packet of Cheddar & Bacon mix
In a bowl, mix all ingredients, reserving 2 tbsp. of cheese. Transfer mixture to a heat proof dish. Bake at 350 degrees for 15 to 20 minutes. Remove and sprinkle with the reserved cheddar. Place under broiler for about a minute, until top becomes golden. Makes about 2.5 cups.
Pair this delicious dip with one of our baguettes from Tribeca Oven or some Simple White crackers from Stonewall Kitchen.
These dips also double as convenient seasoning blends. Elevate your everyday meatloaf by adding a packet of bacon, cheddar mix.