Day 4: Spice It Up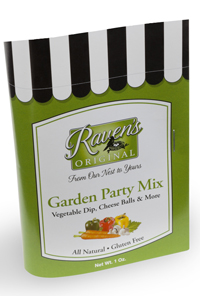 Chapters Bookshop & The Wine Cellar at Chapters offers a variety of foods, drinks and kitchenware to make any get-together extra special.  Check our blog for weekly recipes, new food products and serving suggestions.  The store features a variety of unique drinks and foods that can easily transition from your daily table to special event.
Whether you're gathering around the dinner table, picnic table, tailgate or buffet,
we can help you pull together and plan the perfect meal and/or party.
Today we're giving away Raven's Original Garden Party Mix.  This unique blend of spices turns any gathering into a special event.  This mix can be used to make a cheese ball or dip or you can use it as a seasoning for meat and sides.
In celebration of our twenty years in business, we'll be featuring twenty days of giveaways. Each day we'll feature a product that is representative of who we are and what we offer.  Visit our website and Facebook pages to share, comment and spread the news. Each "like," "comment" and "share" will enter you into a drawing of the day for a special prize. Visit the store and sign up for our newsletter and you'll also be entered into the drawing.  Winners will be contacted via Facebook or email and prizes may be picked up at the store. (Sorry. We can't ship prizes at this time.)