Day 8: Only the Best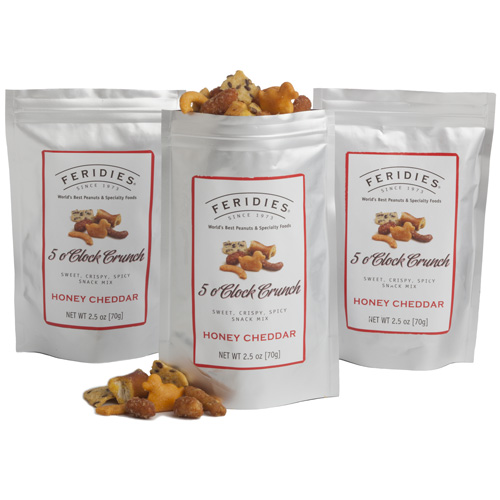 A little salty, a little sweet, 5 O'Clock Crunch is a perfect snack.
A favorite among our staff and customers, this delicious snack mix disappears every time it is served. 5 O'Clock Crunch includes honey roasted peanuts, cheese crackers, chili-lemon corn sticks, honey roasted sesame sticks, honey mustard pretzel sticks and salted corn chips with flax seed.
5 O'Clock Crunch is one of numerous specialty foods from FERIDIES, a Virgina company known for its super extra large gourmet peanuts.  Their nuts, snack mixes and specialty foods are sold worldwide, and their tasty peanuts have won numerous national and international awards.
From food to clothing, we offer a unique selection of specialty items that don't just meet our high standards, they surpass them.
Today we're giving away a 2.5-ounce bag of 5 O'Clock Crunch.
In celebration of our twenty years in business, we'll be featuring twenty days of giveaways. Each day we'll feature a product that is representative of who we are and what we offer.  Visit our website and Facebook pages to share, comment and spread the news. Each "like," "comment" and "share" will enter you into a drawing of the day for a special prize. Visit the store and sign up for our newsletter and you'll also be entered into the drawing.  Winners will be contacted via Facebook or email and prizes may be picked up at the store. (Sorry. We can't ship prizes at this time.)