Day 20: Dress for success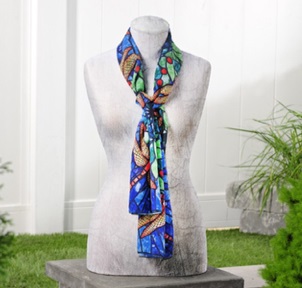 We don't want to say we saved the best for last, but we did save the newest.
Our most recent addition to the store, and one that's quickly become a bestseller, is our women's clothing.
Accessories such as our unique jewelry and handbags are extremely popular, so when our customers asked for clothing, we delivered.
We carry unique apparel from some of today's most popular designers and clothing lines including, Simply Noelle, Charlie Paige, Blossom Boutique, Mud-Pie and Coco + Carmen.
Our clothing is carefully chosen for quality, style and versatility.
We can also help you style your outfits so that individual pieces can by layered and worn all year.  Ask us for jewelry and accessories suggestions to vary the style of your outfit.
Today we're giving away a dragonfly print scarf.
In celebration of our twenty years in business, we'll be featuring twenty days of giveaways. Each day we'll feature a product that is representative of who we are and what we offer.  Visit our website and Facebook pages to share, comment and spread the news. Each "like," "comment" and "share" will enter you into a drawing of the day for a special prize. Visit the store and sign up for our newsletter and you'll also be entered into the drawing.  Winners will be contacted via Facebook or email and prizes may be picked up at the store. (Sorry. We can't ship prizes at this time.)