10 Fiddlers' Convention Essentials

The word's oldest and largest fiddlers' convention is here, and we are proud to say that it's located right in our front yard.  Whether you're native, traveler or prodigal, the Galax Old Fiddlers' Convention is THE place to be if you're even remotely interested in old-time or bluegrass music.
This year, Aug. 8-13, marks the city's 81st annual convention. According to information provided on the event's official website,  "The Old Fiddler's Convention was originated in the spring of 1935 when a few members of the then new Moose Lodge #733 needed something to raise funds and promote publicity.  In a newspaper item at the time it was stated that the Convention was dedicated to "Keeping alive the memories and sentiments of days gone by and make it possible for people of today to hear and enjoy the tunes of yesterday".  The original purpose is held in the same regard today, and the sponsors feel that in some measure this purpose has been accomplished."
Maybe you're competing.  Maybe you're camping. Or maybe you're just visiting a day or two.  Regardless, assuming you have your instrument of choice in hand, the necessities remain the same. Here's our Top 10 Fiddlers' Convention Essentials as compiled by Chapters Bookshop & The Wine Cellar at Chapters staff. We have all these items in stock and ready for purchase.  Trust us. We have decades of experience when it comes to surviving this historic musical event. Enjoy your week!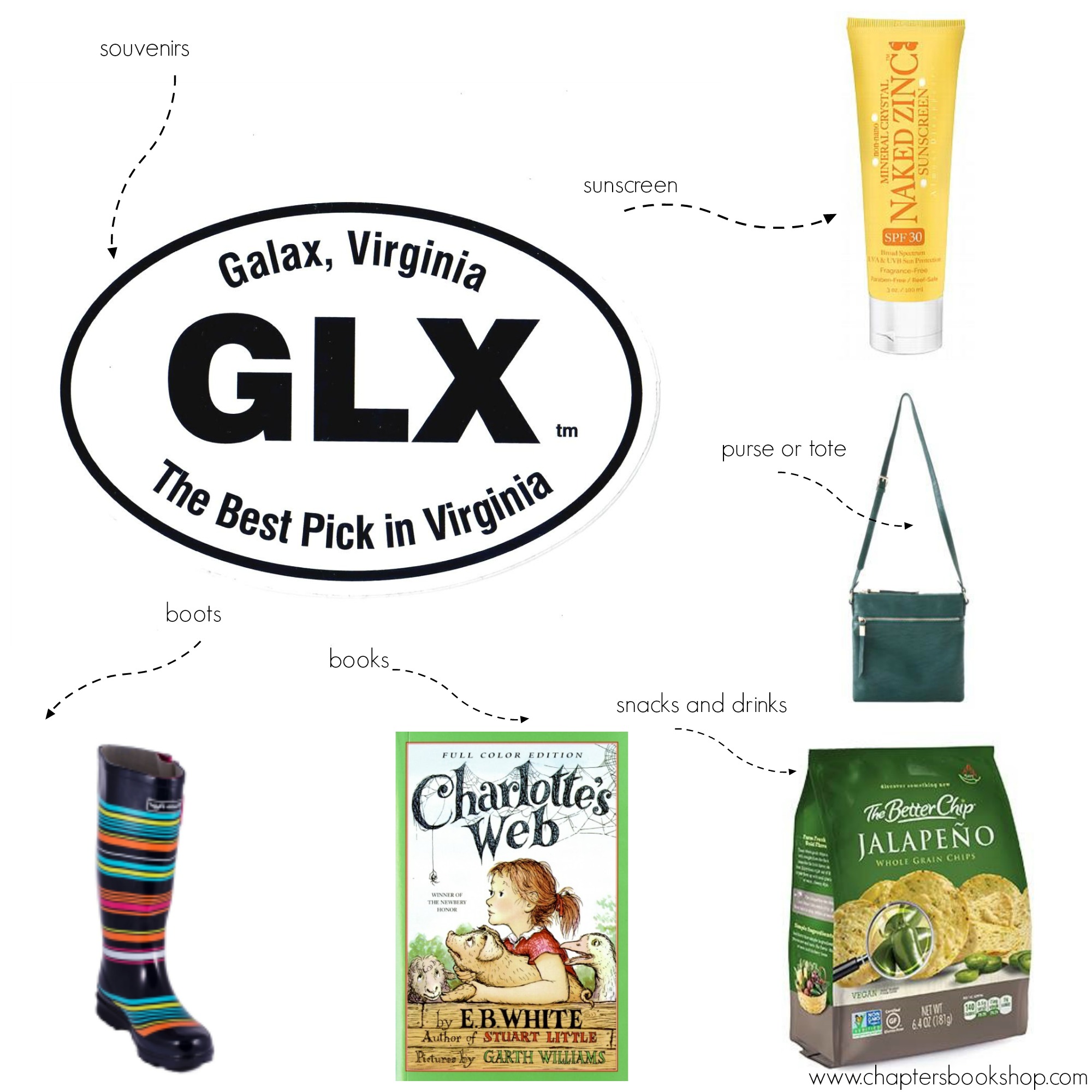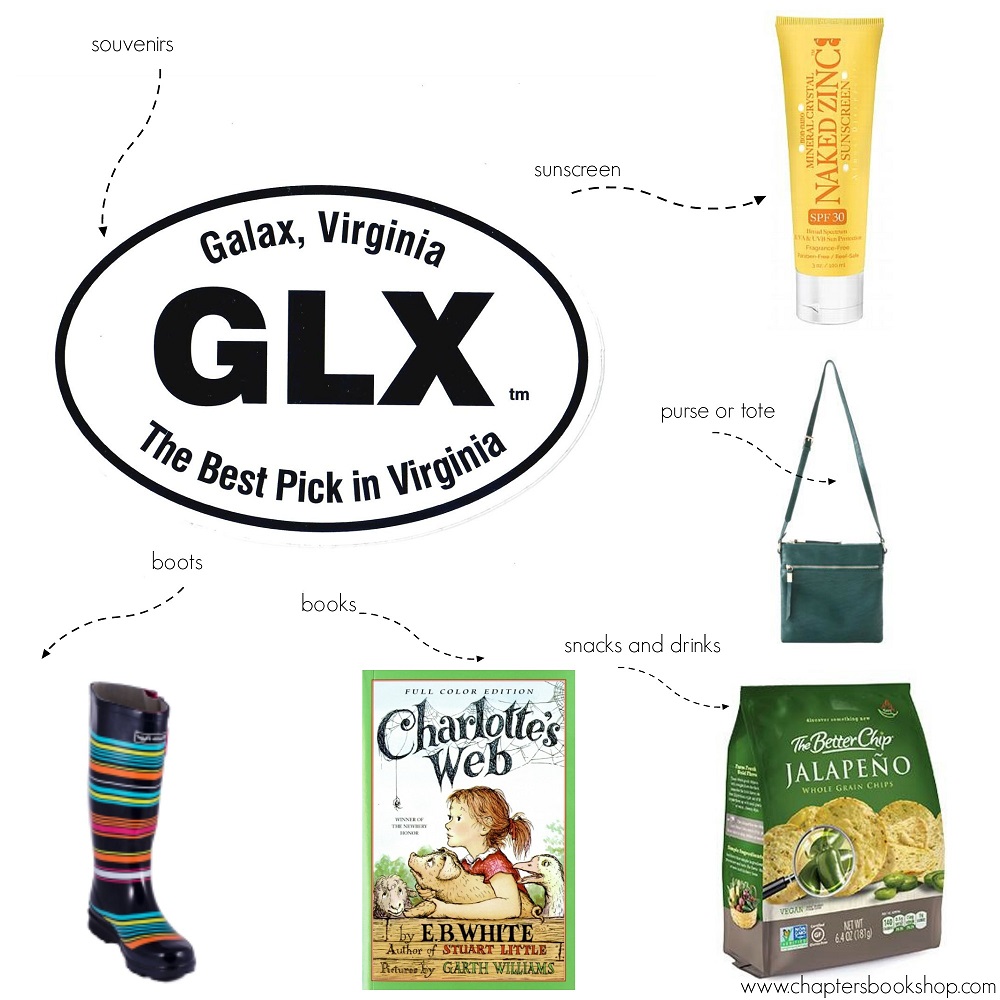 Rain Boots/umbrella:  It rains. It always rains.  We have boots, umbrellas, extra socks and more.
Sunscreen:  Avoid a scorching sunburn with Naked Bee's natural sunscreen.  We also offer a selection of lotions and soaps.
Hat, headband or scarf:  Protect yourself from all the elements.  We offer an assortment of hats, headbands and scarves.
Water or water bottles:  We sell bottled water, but we also have an awesome collection of reusable bottles that come in handy.
Snacks:  Chips, candy, nuts and more.  Find all kinds of goodies at The Wine Cellar at Chapters.  We offer some of the finest cheeses, breads, crackers, salsas, chips… the list goes on and on.
Souvenirs:  Don't leave empty-handed.  Take home a Galax T-shirt, bumper stickers, magnets, books, etc.  We offer items in every price range, for every budget.
Jacket or long-sleeved shirt:  Nights get cool here in the mountains, and days get pretty warm.  We offer a selection of women's clothing that you just won't find anywhere else.  Stylish, practical and comfortable, you'll find what you need here at Chapters Bookshop.
Crossbody, wallet or tote:  Whether you're walking around the park or venture downtown, a small wallet, crossbody or tote will come in handy.  We offer an assortment of purses and bags in a variety of price ranges.
Books: If you're looking for a little downtime or need something to do on those rainy days, we have a wonderful assortment of new and used books for all ages and in all genres.  Browsing has never been so fun.
Beer/wine:  If you're 21 and older, our knowledgeable staff at The Wine Cellar at Chapters can help you pick out the perfect beverage.  We have a large selection of wines and craft beer.  We'll also be holding wine tastings throughout the week.  Don't forget your ID.