Blog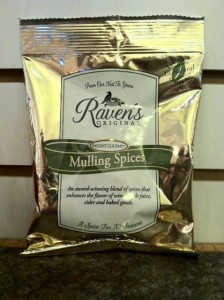 $3.50 each or two for $6
Raven's Original Mulling Spices is one of our most popular food items, especially this time of year.
Hot apple cider is a traditional and tasty use for these spices, but there are tons of other ways to incorporate them into your foods and beverages.
Here are a few of our favorite suggestions and recipes.
Enjoy!
Instant Mulling Spice Recipes
Sprinkling Spice Ideas
Sprinkle on hot cereals, pancakes, waffles.

Add Spice to apple sauce or banana fritters.

French Toast – beat a little in your egg mixture.

Toast – Add some spice to your buttered toast.

Bagel Spread – Blend into cream cheese for a great spread.

Add to apple or orange juice to make a paste for basting ham or pork roast
Cinnamon Nut Cookies
1 cup brown sugar
1
pkg. Raven's Spice
1 cup chopped nuts
1 ½ cup melted Crisco
4 ½ cup flour
1 tsp. Salt
2 tsp. Soda
3 eggs, well beaten
Mix sugar, spice and Crisco well. Add eggs. Beat in dry ingredients a little at a time. Add nuts. Make into long rolls. Chill. Slice & bake at 350º until done.
Christmas Dreams In Wine
2 (12oz) cans frozen apple juice concentrate thawed and undiluted
1 (12oz) can frozen cranberry juice concentrate thawed and undiluted
4
cups dry red wine
4 cups of water
1/3 cup Raven's Mulling Spice
Combine all ingredients, stir to make sure sugar is dissolved. Chill for at least 1 hour. Beverage may be served hot or cold with an orange slice. Yield: 12 ¾ cups.
Apple Dumplings
2 Granny Smith apples, peeled, cored and quartered
1 can refrigerated crescent rolls
1 cup orange juice
1 stick butter or margarine
2/3 cup sugar
1/3 cup Raven's spice
Separate canned rolls into eight triangles and roll one around each piece of apple. Place in a baking dish. Combine juice, sugar, spice and margarine. Heat until
sugar is dissolved. Pour over apples. Bake uncovered at 375º until brown.