Day 6: Mulling it over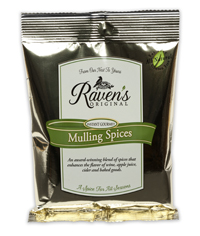 Here at Chapters Bookshop & The Wine Cellar at Chapters we do our best to create a warm and friendly environment for you –our customers, friends and family.
Hospitality is our middle name.  Most days you aren't just greeted by the welcoming smiles of our staff, you'll also be treated to a sample of fresh coffee or tea, and maybe some chips, cookies, cheese or nuts.  Or, on Fridays and Saturdays and special occasions, a sip of wine.  Tasting is important.
Just as our mothers and grandmothers test the seasoning before serving Sunday supper,
we want to make sure we're offering you the best, freshest and tastiest foods and beverages.
Today we're giving away a bag of Raven's Original Mulling Spices.  Most of our customers are familiar with this item.  During the winter months, the scent of mulling spices fills the store as we prepare and offer fragrant cups of hot cider.  What's great about this award-winning blend of spices, is that it can be used year-round in a variety of drinks and foods, from wine to baked goods.
In celebration of our twenty years in business, we'll be featuring twenty days of giveaways. Each day we'll feature a product that is representative of who we are and what we offer.  Visit our website and Facebook pages to share, comment and spread the news. Each "like," "comment" and "share" will enter you into a drawing of the day for a special prize. Visit the store and sign up for our newsletter and you'll also be entered into the drawing.  Winners will be contacted via Facebook or email and prizes may be picked up at the store. (Sorry. We can't ship prizes at this time.)